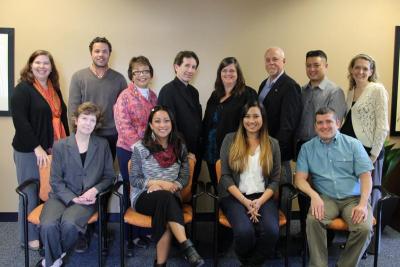 The Field Study Advisory Board is an opportunity for community partners, students, faculty and administration to collectively share their experiences, successes, and concerns.  These are critical to informing our priorities and efforts.   The expertise and experience of advisory board members help us to better understand the community perspective of Field Study.  Members in turn you have the opportunity to learn more about the faculty's role and students' perspectives.  The Advisory Board is an integral part of the efforts that ensure our students are provided the best opportunities that help them prepare to tackle pressing issues as they confront communities locally, regionally, nationally, and globally.  
The Advisory Board meets three times a year, once each academic quarter.  Each meeting lasts approximately 2 hours; we usually meet on campus.  There is occasional email discussions between meetings and depending on the efforts, members may have the opportunity to serve on a project or committee.   We ask that our community partner members reach out to a few other community partners, as a peer, to gather feedback on what works within their organizations and gather ideas for enhancing the community partner's experiences with the program.  
Advisory board members are carefully selected to represent the diversity of field study stakeholders.  The current structure of the advisory board includes community partner representatives from a for-profit, non-profit and public sector agency, a faculty representative from each of the disciplines, an alumni representative, and two students representatives as well as the associate dean of academic programs, director of development, field study director and field study coordinator.  
Field Study Advisory Board
Member
Organization
Title
Term
Community Members
Christina Beecher
Community Services Programs
Volunteer Coordinator
Feb 13 - Jun 16
Vivian Clecak
Human Options
Chief Executive Officer
Mar 15 - Jun 17
Jennifer Friend '95
Project Hope Alliance
Chief Executive Officer
Mar 15 - Jun 17
Michael Lieu '99
Parsons Brinckerhoff
GIS/Noise Analyst
Feb 13 - Jun 15
Student Members
Haley Ryan
Criminology, Law and Society
Sophomore
Sept 15 - Jun 17
Sarah Thao
Psychology and Social Behavior
Senior
Feb 13 - Jun 16
Faculty Members
Geoff Ward
Criminology, Law and Society
Associate Professor, FSAB Chair
Feb 13 - Jun 15
Doug Houston
Planning, Policy and Design
Associate Professor
Feb 13 - Jun 15
Sarah Pressman
Psychology and Social Behavior
Assistant Professor
Sept 14 - June 16
Alumni Members
Daphne Felicitas '01
Blizzard Entertainment
Sr. Manager, Talent & Organizational Development
Sept 15 - Jun 17
Social Ecology Administration and Staff
Wendy Goldberg
Social Ecology Administration
Interim Associate Dean of Academic Programs
 
Mickey Shaw
Social Ecology Administration
Director of Development
 
Ashley Vikander '88
Social Ecology Field Study Program
Director of Field Study
 
Rachel Christensen '07
Social Ecology Field Study Program
Field Study Coodinator
 
Patricia DeVoe
Social Ecology External Relations
Communications Coordinator
 
If you would like to contact any member of the Field Study Advisory Board or are interested in serving on the board please email us at
sefieldstudy@uci.edu
or call  949 824-6861.