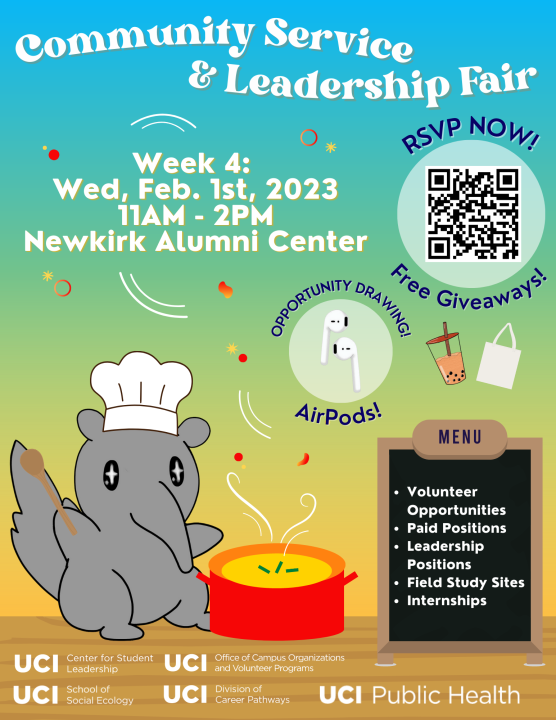 The Field Study Program cordially Invites you to the 
2023 Community Service & Leadership Fair  
This is a great opportunity to meet site representatives from approved field study placements.
Winter Quarter - Week 4
Wednesday, Feb. 1, 2023
11am-2pm
The Community Service & Leadership Fair is an annual event that invites students, staff, faculty, and community members to learn about leadership, community service, and field study opportunities with local nonprofits, campus departments, and campus organizations. Feel free to drop by anytime from 11am - 2pm to check out volunteer opportunities, paid positions, leadership positions, field study sites, and internships.
Featured Organizations:
About Behavior Consulting  (Field Study Site #25.1)
Anti-Cancer Challenge
Campus Blood Donor Center (Field Study Site #205.1)
COPE Health Scholars
Community Action Partnership of Orange County  (Field Study Site #407)
Division of Career Pathways (Field Study Site #201)
Families Forward (Field Study Site #524)
Habitat for Humanity of Orange County (Field Study Site #408)
Higher Ground Youth & Family Services (Field Study Site #7)
Hope Community Services (Field Study Site #506)
Illumination Foundation (Field Study Site #507)
Jamboree Housing Corporation (Field Study Site #409)
Jazz Hands For Autism (Field Study Site #8)
KidWorks (Field Study Site #27)
Project Access (Field Study Site #500)
SEARCH Lab
Social Collaborative (Field Study Site #14)
TGR Learning Lab (Field Study Site #312)
UCI Campus Assault Resources & Education (CARE) (Field Study Site #517)
UCI College Corps
UCI Counseling Center Peer Education Programs (Field Study Site #210)
UCI Cross-Cultural Center 
UCI Latinx Resource Center (Field Study Site #206)
UCI Student Housing
UCI Sustainability Resource Center
UCI Veteran Services Center
UCI Womxn's Center for Success 
Unlimited Possibilities (UP), formerly UCP of OC (Field Study Site #610)