Watch our latest Field Study Information Session below!
Fall 2022  Field Study Info Session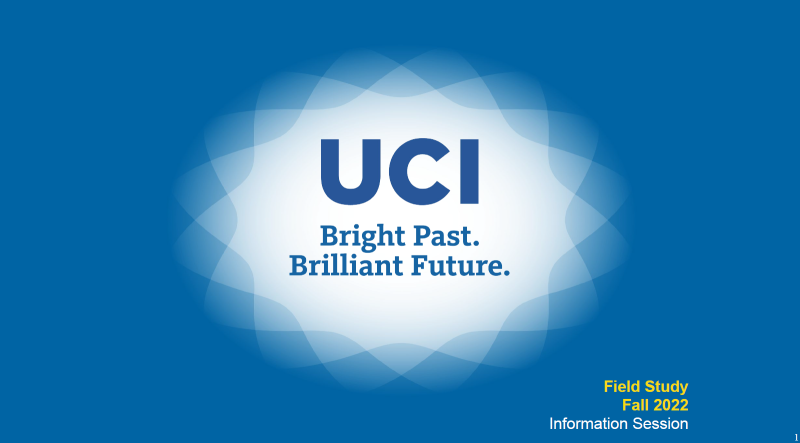 View recording with transcript  HERE
View click-able version of the presentation  HERE (PDF) 
Start Your Field Study Journey with our Steps to Success! 
         
Click below for: 
► Curricular Practical Training Information  - For international students (F-1 visa holders), completing field study outside of UCI.
Field Study Prerequisites
Declared major in the School of Social Ecology or Environmental Science and Policy Major
SOCECOL 10 (or an equivalent course) 
2.0 GPA
Junior or Senior Standing (90+ units)
Lower Division Writing - If requesting SOCECOL 195W
Accepted a placement at listed Field Study Community Partner and submitted course enrollment form by the deadline.
---
 2022-2023 Field Study Calendar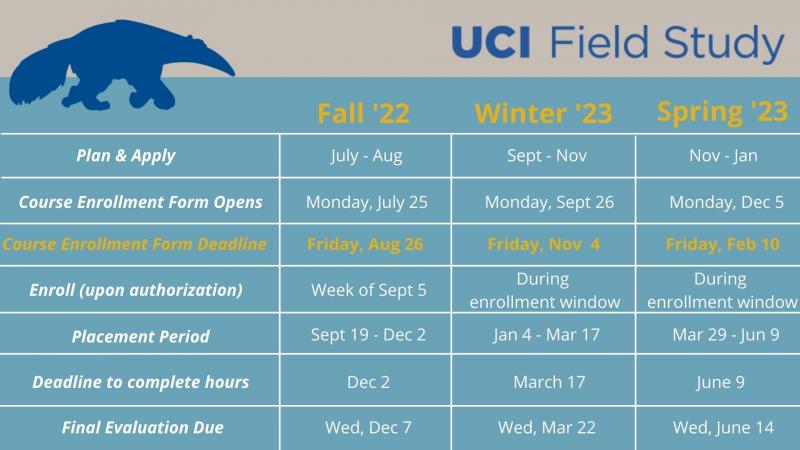 * Email Authorization: if students meet all prerequisites and meet the deadline to submit a Course Enrollment Form, they will receive an email authorization with information on how and when to enroll. Students are not to enroll prior to receiving this notification.
---
Summer Field Study Information and Deadlines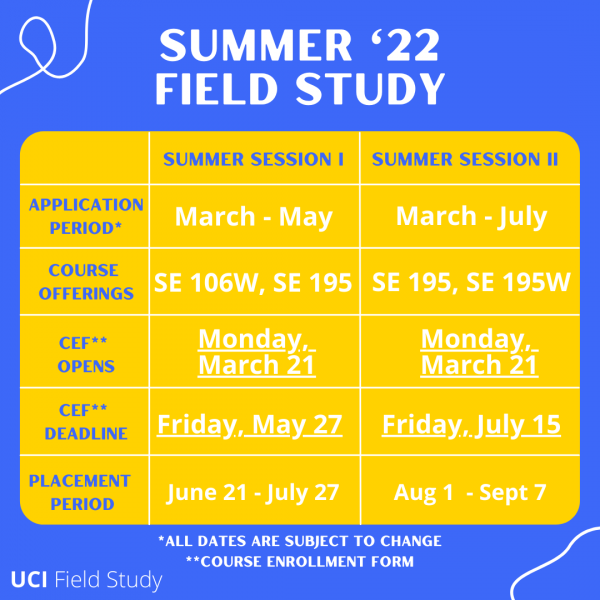 Step 1: Plan 
Apply for Financial Aid ( if eligible) 
Check your eligibility

Field Study Prerequisites 

Select a Summer Session 
Be mindful of the application timeline and deadline
Browse and consider your Field Study Placement Options 

SE106W - SSI ONLY 
Traditional Field Study Catalog 
School of Social Ecology Placements
Research Assistantships (RA)

Any RA position within the School of Social Ecology qualifies 
RA positions OUTSIDE of the School of Social Ecology must be submitted for review 

Learning Assistantships (LA)

Any LA position within the School of Social Ecology qualifies 
LA positions OUTSIDE of the School of Social Ecology must be submitted for review
Step 2: Apply  
Apply as instructed under the "How to Apply" section of each listing

Prepare a resume and cover letter 
Click HERE for tips and best practices 

Interview 

Click HERE for interview tips, best practices, and mock interview opportunities
Step 3: Select 
Select your final placement (if multiple offers were extended) 
Select a course (SE195, SE195W, SE106W)
Step 4: Submit 
Submit the Summer Course Enrollment Form before the listed deadline based on the Summer Session of your choice. 

CEF opens Monday, March 21st

Allow our office 3-5 business days to process your CEF, verify your eligibility, and submit your authorization
If approved, you will be sent an email authorization with enrollment information
NOTE: We will accept CEFs until the deadlines listed above (for the corresponding Summer Session) OR until we reach enrollment capacity. 
Step 5: Enroll 
For Summer Session ONLY You can enroll once you receive the email authorization OR before the enrollment deadline without a late fee 

SSI -  June 10
SSII - July 19 
Please be advised: Once you are approved, your spot is reserved. You will only be unauthorized if you do not enroll by the date listed above and after we have made multiple attempts to contact you.
---
Field Study Units (***subject to change during physical distancing and remote instruction--see Field Study FAQ page for latest modifications) 
20 hours of fieldwork = 1 unit of academic credit
Four (4) units of Social Ecology 195 Field Study are required to graduate
During the academic year, field study SE 195 may be taken for 2-8 units and SE 195W for 4-8 units; summer for 4 units
Field Study may be repeated for up to 12 units
Research and Learning Assistants for Field Study: Enrollment procedures and guidelines
Participation as a research assistant (RA) or as a learning assistant (LA) can count as your field placement, but these have specific enrollment requirements as described below. PLEASE READ THIS SECTION CAREFULLY:
You MUST enroll in the correct number of SE 195 or SE 195W units in addition to the SE 198 (for RAs) or UNI STU 198 (for LAs) units as specified below. 
Each of the enrollment specifications outlined below will fulfill your Field Study requirement 
You will need to request an authorization code from your faculty RA or LA supervisor (NOT your Field Study course instructor) to enroll in SE 198 or UNI STU 198. Please reach out to them directly when your registration window opens.
**If the LA course or RA project is OUTSIDE of the school of Social Ecology, you will need to get special approval to use this placement from the Field Study office. Please note that to be approved, the subject matter of the LA course or RA project needs to align closely with the Social Ecology curriculum. 

Request approval to use a research lab OUTSIDE of the School of Social Ecology HERE. 
Enrollment Requirements for Research/Learning Assistants for Field Study:
RAs in SE 195 must enroll in exactly: 2 units (SE 195) + 2 units (SE 198) = 4 total units
LAs in SE 195 must enroll in exactly: 2 units (SE 195) + 2 units (UNI STU 198) + 2 units (UNI STU 176) = 6 total units
RAs in SE 195W must enroll in exactly: 4 units (SE 195W) + 2 units (SE 198) = 6 total units
LAs in SE 195W must enroll in exactly: 4 units (SE 195W) + 2 units (UNI STU 198) + 2 units (UNI STU 176) = 8 total units
*Please see https://dtei.uci.edu/certified-learning-assistants-program-clap/ for more information about learning assistantships
---
Additional Field Study and University Policies
For more details, check out our Field Study FAQ page