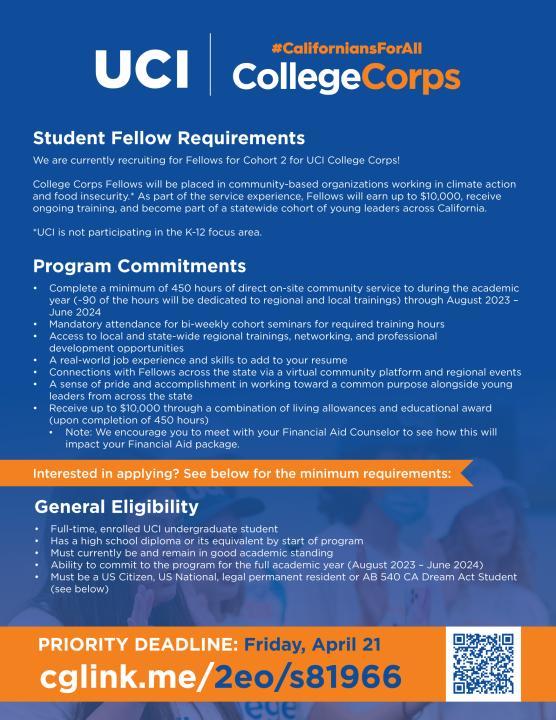 The 2023 - 2024 UCI College Corps Fellow Application is now available! We are looking for passionate students who are interested in engaging in the community, wanting to make a positive change, and make an impact in either climate action or food insecurity. Fellows will be required to complete 450 hours of combined service and training to complete the program. For more information including Requirements to Apply and Program Commitments, please see below.
What is UCI College Corps?
#CaliforniansForAll College Corps is a statewide paid service program which provides meaningful work to college students, helping them graduate on time and with less debt while benefiting their local community. Students will receive up to $10,000 for serving their community.
UCI College Corps Fellows will tackle the biggest issues facing our state - distributing meals to those facing food insecurity and taking climate action. This program is open to AB 540 CA Dream Act Students, ensuring that any UCI student has a chance to earn money while they serve their community.
Requirements to Apply:
Full-time, enrolled UCI undergraduate student
Has a high school diploma or its equivalent by start of program
Must currently be and remain in good academic standing 
Ability to commit to the program for the full academic year (August 2023 - June 2024)
Must be a US Citizen, US National, legal permanent resident or AB 540 CA Dream Act Student (see below)
Meet at least one of the following criteria regarding Financial Need:
Needs to work part time and/or borrow student loans to meet educational costs
Is an AB-540 Eligible Dreamer or a Cal Grant A or B recipient
Program Commitments:
Complete a minimum of 450 hours of direct on-site community service during the academic year (~90 of the hours will be dedicated to regional and local trainings) through August 2023 - June 2024
Mandatory attendance for bi-weekly cohort seminars for required training hours
Access to local and state-wide regional trainings, networking, and professional development opportunities
A real-world job experience and skills to add to your resume
Connections with Fellows across the state via a virtual community platform and regional events
A sense of pride and accomplishment in working toward a common purpose alongside young leaders from across the state
Receive up to $10,000 through a combination of living allowances and educational award (upon completion of 450 hours)
Note: We encourage you to meet with your Financial Aid Counselor to see how this will impact your Financial Aid package.
Application Process:
Apply NOW at the link here: https://cglink.me/2eo/s81966
You will be contacted via your UCI email address if you are selected to move forward to the group interview process which will be held via Zoom. 
We highly encourage submitting your application in by the priority deadline - Friday, April 21 (Week 3). However, applications will be accepted on a rolling basis until all slots are filled.
Attend our in-person UCI College Corps Application Info Session on Thursday, April 20 (Week 3) from 4 - 5pm in Crescent Bay CD, Student Center.  RSVP to attend the info session at the link here: https://cglink.me/2eo/r1927521
If you have any questions until then, please email collegecorps@uci.edu
Thank you and we look forward to seeing your application!
Best,
Anella Aquino & Marie Paulo Arche