Advanced Field Study (AFS)
Advanced Field Study, led by Dr. Karna Wong, Assistant Teaching Professor, Urban Planning and Public Policy, provides a small number of students an in-depth, three-quarter Field Study experience primarily focused on addressing issues and challenges in the community through civic engagement. 
Students will apply for placement with a local non-profit or public sector organization and will complete approximately 8 hours of in-person fieldwork per week during Fall, Winter and Spring quarters.
Fieldwork activities may include serving in a day-to-day capacity in support of operations, conducting research that enhances the work of the organization, developing new activities or programs, working intensively with clients, engaging in outreach and community organization, participating in organizational development and advancement efforts, and more. 
The third quarter (spring) of the AFS year is designated as satisfying the UCI writing requirement for undergraduates. With that in mind, students will, in addition to the work they do with their community partner, produce an analytical and reflective paper that distills the lessons they have learned from their community placement and, in the process, hones and deepens their writing skills.
The three-quarters of Advanced Field Study can fulfill a number of degree requirements.
SocEcol 195A, taken in the Fall, counts for elective units only. 
SocEcol 195B in the Winter will satisfy the School of Social Ecology 195 Field Study (4 unit) requirement. 
SocEcol 195CW in the Spring, with a grade of C- or better, will satisfy the upper-division writing requirement. 
AFS INFORMATION SESSION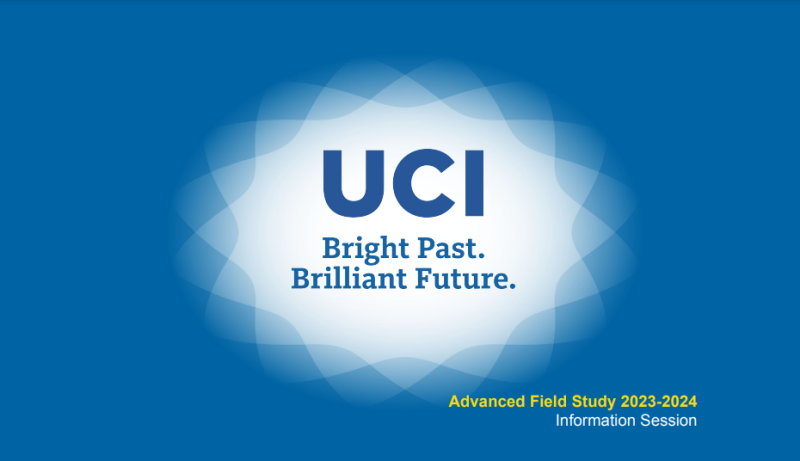 Are you a current community partner interested in becoming an AFS-eligible partner? 
Email us at sefieldstudy@uci.edu for more information. 
How do I find my placement for AFS?
Students will apply to field placements AFTER they've been formally accepted into the Advanced Field Study program. However, before applying for the AFS program, students should first browse our field study catalog and make sure there are at least 5-8 placement sites to which they would be interested in applying later. This will greatly decrease the chances that students are accepted into AFS but are then unable to find a compatible placement site.
When browsing our field study catalog to find AFS-eligible sites, look for the yellow writing at the top of each placement listing that reads "Eligible for Advanced Field Study (AFS)." ONLY placements that have this heading are participating AFS sites. For a complete list of eligible sites, click on the "Advanced Field Study" tab at the bottom of the catalog reference guide found on the field study catalog page of our website.
Students that have been accepted to the AFS program will be responsible for securing their own placement from our catalog in order to remain in the AFS program. But, don't worry--there are plenty of participating AFS sites and our office will be here to help! More details about the applying to AFS sites will be sent out to students after they've been officially accepted to the AFS program.  
NEW! View a list of AFS Eligible placements HERE
Will remote placement opportunities be available?
The organizations that agree to host our AFS students vary annually. While we now have a number of community partners that host our field study students in hybrid and remote formats, the availability of such placements for any given AFS cohort will vary. Once admitted to the program, please check the AFS catalog carefully for details on the fieldwork format across sites. 
What are the prerequisites to apply?
Minimum 3.0 Cumulative GPA (at the time of application)
Major within the School of Social Ecology or an Environmental Science and Policy major.
SocEcol 10, Research Design (may be completed in Summer 2023 or earlier)
Lower Division Writing completed by Summer 2023
90+ quarter units to be completed by the end of spring 2023
Good academic standing
A commitment to enroll in all three courses of the Seminar sequence for the academic year (this means being in residence at UCI all three quarters)
Previous volunteer experience in a community setting preferred
***Additional prerequisites for those wishing to complete a research project as part of their Advanced Field Study: 
Completion of SocEcol 13 (Statistical Analysis in Social Ecology)
Minimum one-quarter of prior participation in a research lab/research project, not including projects assigned as courses work in SE 10 or SE 13
What materials are required to apply?
In addition to completing several short answer questions, the following materials will need to be uploaded with your application:
A current resume. Upload your resume as a .pdf. Please name it Resume_Lastname_Firstname. In addition to work experiences, please be sure to include any civic engagement, community or volunteer activities you have participated in during the past four years, including year(s) and length of service. Indicate any positions of leadership you have held and special awards or honors you have received. Please describe activities you played a direct role in rather than a general description of the organization's activities.
One letter of support. Your letter should be from a faculty member, professional or academic mentor, employer or volunteer manager. The letter should address why your recommender believes you to be a strong candidate for this program and why they believe you will benefit from such an experience. Please name it LOR_Lastname_Firstname.
Unofficial transcripts. Please upload transcripts as a .pdf file. You should name the file: TS_Lastname_Firstname.
When are applications due?
Friday, May 19th, 9:00pm 
PROGRAM STAFF
Instructor 2023-2024:  Dr. Karna Wong, Assistant Teaching Professor, Urban Planning and Public Policy
Program Management: Dmitry Tsukerman Ph.D., Director, Field Study Program 
Program Support:

Lizet Ceja, Field Study Coordinator
Su Spengler, Field Study Student Staff